It's taken me many years to accept myself. I'm really fortunate to have a wife who is very supportive and understanding and who has helped Amanda develop. We have spent many hours talking and discussing Amanda. It's not been an easy journey but we have talked and talked and been totally open and honest with each other. I'm sure her medical background has helped enormously and during her career she has seen patients across the whole transgender spectrum. Her only request now is that when I go out I look as 'passable' and feminine as possible. To date I have had no surgery or hormones, but do enjoy regular beauty treatments including full body waxing and eyebrow shaping. I have pierced ears and get regular nail and eyelash extensions. I have a beautician friend whom I have known for years and she is very supportive and understanding of my needs, feelings and requirements. Most weeks I'm fortunate to spend one to two days fully en-femme and I regularly take mini breaks of up to a week, fully 'dressed.' I realise I'm so lucky to have this support, help and understanding.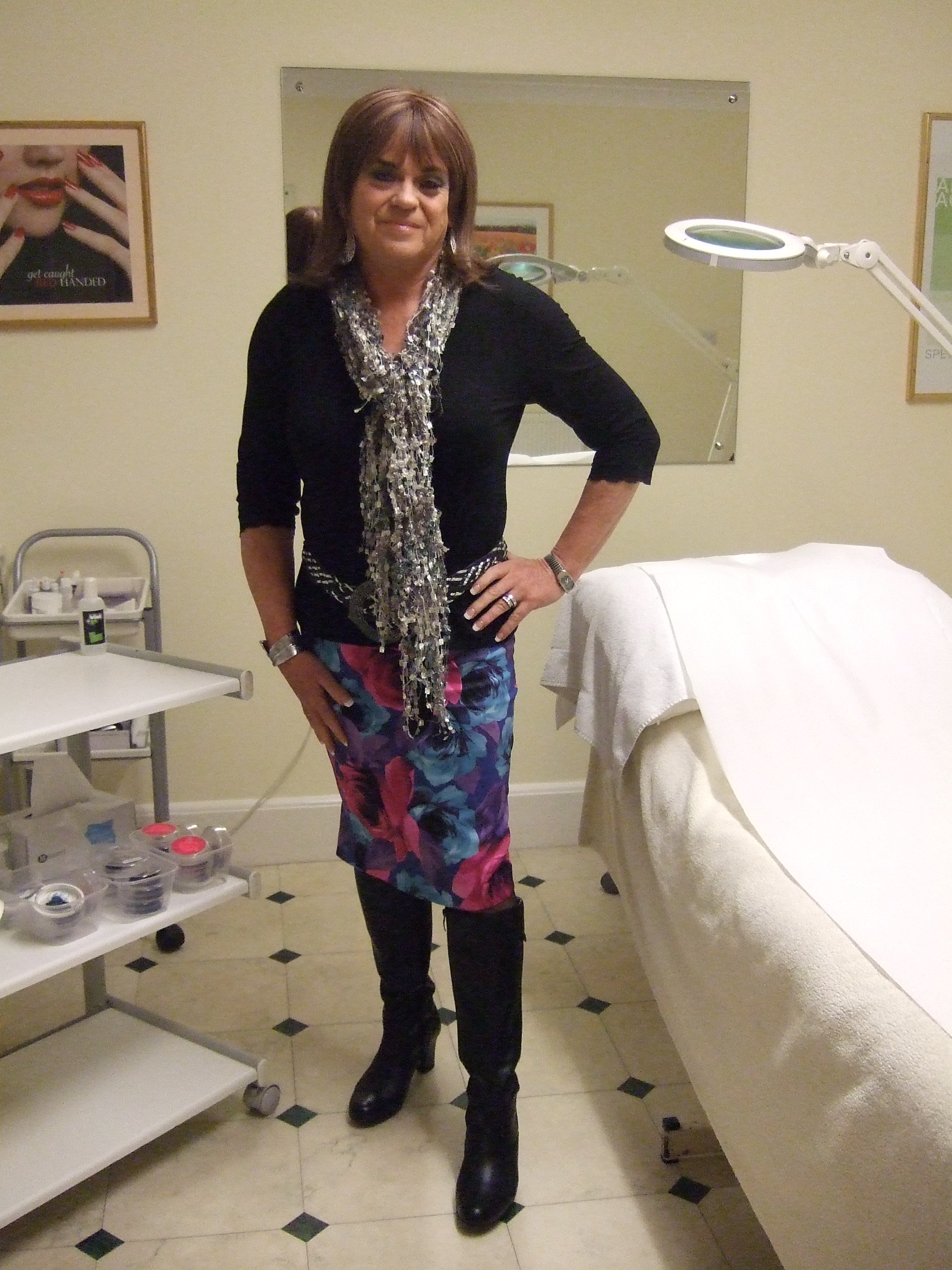 So where is this all going? What has been achieved?
I've been speaking to personnel departments in local shops and companies on transgender issues and policies, including how their staff act and perceive us. Through local department stores, I've liaised between the shop floor staff, managers and company bosses about staff, products and TG needs and issues. This has often come about when I have been approached by women personnel managers in local stores and shops. Was I happy to give an interview? Was I a genetic female? Was I TG? Did I mind being asked questions? Was this an imposition? This did make me realise that I had perhaps been 'read' but I did want to help and so was more than happy to be interviewed.
On each occasion I have been asked to answer questions and talk about transgender shopping, TG issues and concerns and how their staff approached and served TG girls. This was done through interviews in their offices, telephone conversations and regular e-mail updates. I've even lent out my copy of 'He or She' by Vicky Lee on extended loan. Everyone who has read it says it should be compulsory reading and is very enlightening and informative.
All large shops have transgender policies and want to get things right and correct when dealing with us. All have said I was very confident and convincing. Some asked was I full-time? Have I had surgery?And some even thought I was a genetic female – What a compliment! All I have spoke to say the TG scene is now mainstream, there are loads of us out there! The more informed they are, the more they can help us realize our dreams.
This has opened up many doors and invitations for Amanda to attend. For example police forces have departments and policies regarding transgender issues. I was first approached by a young woman in plain clothes who said she was a police officer working on TG, gay and lesbian issues and hate crimes. She showed me her warrant card and again we just started talking. She wondered if I had ever had any dealings with the police when dressed?  The answer was yes, (as I'm sure many of us have) twice, while out driving. On both occasions, male officers stopped me on spot-check road blocks. Questions were asked, details checked and I was off. Both times the officers were very courteous, pleasant and polite. Both wished me a good evening and told me to keep safe and enjoy myself. Following on from this, I have again exchanged emails and met up and talked with the Police Liaison Officer. I'm so pleased that these links have been really good at helping me promote the TG Community.
None of this would have occurred or even been considered a few years ago. I now have the confidence to go out as Amanda and give help and advice to to others and to encourage those just starting their journey. What about future plans and ideas? I'm exploring TG counselling courses. Again, I feel I could give a lot back after after my journey of exploration and discovery. Also, I can't wait to have more time to spend fully en-femme. Who knows where I might end up! How far will Amanda go? It's so exciting!
The whole transgender scene has come on hugely over the last few years. The internet, media, books and publications, the Beaumont Society have all helped play a massive part in this change and move. Publications such as Repartee and Transliving have been inspirational. Cross-dressing and the TG scene are far more open today and mainstream. I'm meeting more and more people, employers, companies, workers etc. who will back this statement up. Ask the lingerie departments, the personal shoppers in the large department stores, the small boutique owners. You really are not alone out there!
Finally, what would my advice be to others? As I've said before, be open and honest with everyone you meet. I know it's especially hard with ones' partner and those closest to us. I know this is not easy; it can cause a lot of friction and be a complete minefield. But ask for help if need be. Join a local support group, perhaps even get some counselling. Above all enjoy yourself and get out in to the 'real world.' It's great fun out there. Life is a massive adventure! Embrace it! You won't regret it!
https://www.christianedowling.com/wp-content/uploads/2019/12/iui.png
506
439
Christiane
https://www.christianedowling.com/wp-content/uploads/2017/03/logo-white1-300x138.png
Christiane
2019-12-08 11:28:01
2019-12-14 14:28:24
So where is this all going? What has been achieved?