Hopefully you will have seen from previous articles Amanda is still work in progress. Make up has been vital to this.
Over the years my wife has been very supportive and critical about how I present my female persona. I want to present as a natural woman and blend in without attracting undue attention.
Over the years I have been very fortunate to have had lots of help from many female friends in the beauty business. I have visited shops and department stores to get help and advice. One of the most difficult areas is getting the correct foundation to look natural. For many years I have used Estee Lauder Double Wear, Clinique and Benefit products to give a good base. These foundation products are used a lot in the TG world. How to apply these products, tools and tricks of the trade take a lot of learning and practice! Books, You Tube etc have been a great help! I love the glamour side of creating a well-groomed look.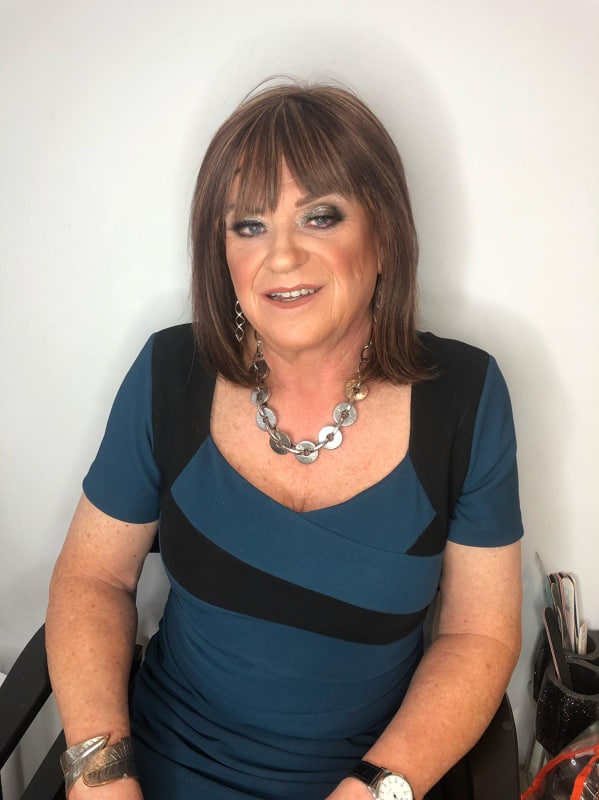 Where is all this going? Well, it all leads to Christiane and her make up artistry. I found her web site by chance. We emailed each other, I exchanged some of my blogs and the rest is history!
Who is the real Christiane, what is she like? I knew she was at the top of the tree by the awards, accolades and achievements she has posted on her site. The pictures, articles etc. tell it all. Real talent!
Amanda soon booked in for a 1-2-1 with Christiane in her lovely home studio. I was going out for the evening to meet up with some friends in a classy country pub and wanted an evening look. I was warmly greeted at the door and taken into her very well-equipped professional studio.
"Like a drink? Tea, coffee?" Yes please!
We started to chat. Christiane is very approachable."Let's start" she said handing me some make up removal pads and Micellar Water. "You look great but we need to start from scratch."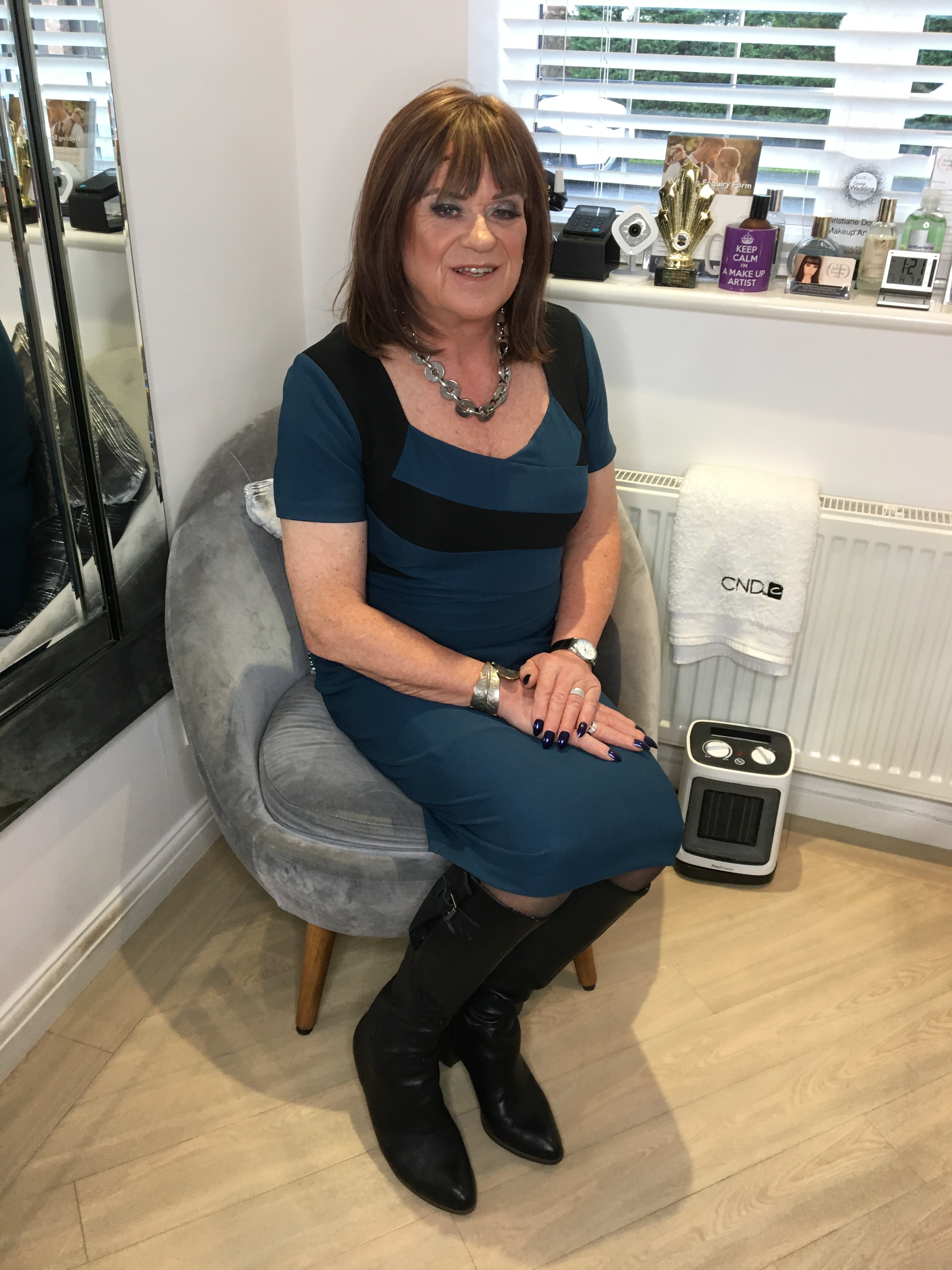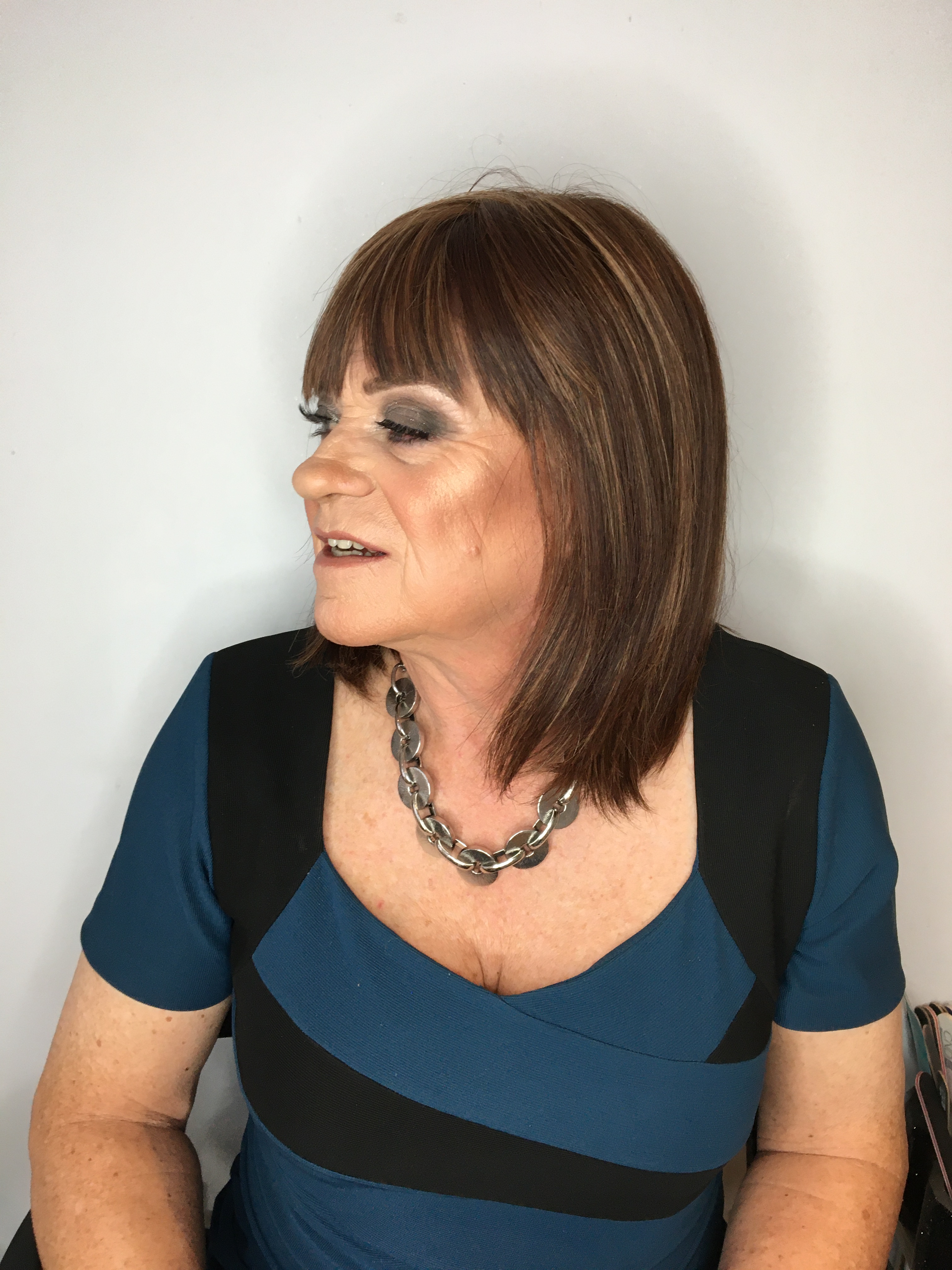 Christiane has a huge selection of beauty products covering all the major brands, some of which I have never come across. She does not have brand loyalty but selects carefully the best products for the client. She has a massive product range. We started from basics including cleansing, moisturising, to primers and foundation. We covered techniques, brushes and some great tips!
With me Christiane started with my eyes and primer, then eye shadows and finishing with lashes and mascara. We covered brow shaping and contouring to give a lovely shape. My brows are regularly shaped using waxing, tinting and threading!
Next came the face, primer, foundation etc. covering topics from contouring, shaping, blusher, bronzers, highlighting etc all clearly shown, demonstrated and expertly taught. Nothing was too much trouble! She is a great teacher! Very patient and understanding. Clear to follow and understand advice and instructions.
Lastly we covered lips, something that I don't find easy, but again her expert tips helped greatly. All through the demonstration – lesson or to me a "master class" I could clearly see every stage with the aid of a large mirror.
Time flew by! Conversation passed! What an experience! So much was covered! The end result was a stunning look. The real me! WOW! I felt a million dollars!
For those of you who are apprehensive about getting help and advice don't think twice! Christiane has her studio at home. She is super aware of TG issues and problems and would love to help those on a journey like me. It does not matter where you are on the TG spectrum, she is there to help.
There was also a lot to take in and remember! Christiane produces an individual written plan – revision sheet of every topic covered, products used and some useful reminders. Great for cognitive overload! She also took pictures on her phone and mine. Great visual reminder of the session.
A 1-2 1 is a must have, must do! I'm still no expert and have so much still to learn but, with help and advice from Christiane I am now so much better equipped and qualified with my makeup knowledge, technique and skills.
My confidence has grown so much! She has raised goals! Go on treat yourself. You know you deserve it! You will learn so much! You will love it!
https://www.christianedowling.com/wp-content/uploads/2020/01/82359069_827741927666115_4803457467834957824_n-1.jpg
800
599
Christiane
https://www.christianedowling.com/wp-content/uploads/2017/03/logo-white1-300x138.png
Christiane
2020-01-21 22:06:29
2021-04-13 20:47:46
A 1-2-1 Make Up Master Class with Christiane