Bridal Adventures
Amanda has been dressing for years and is gradually going further in her TG lifestyle. She regularly spends one to two days a week fully dressed and most holidays spending several days living 24/7. She is very lucky to have a very supportive wife and a brilliant beautician friend Jude who helps achieve a feminine body. Amanda regularly has nail and eyelash extensions done, full body waxing and eye brows shaped and tinted. Her ears were pierced years ago! Well, where is all this going? For over a year now Amanda has wanted a bridal dress to wear to a TG weekend run at a South Coast venue. Where does one start? How do you get help? Who could help? What styles would suit me? Let the story start! Firstly I contacted two local Bridal Shops and explained I was serious about dressing as a bride. I previously had sent them copies of articles I have had published in Repartee No 49, 61, 68, and 76. I also gave them photographs of me out and about. Would it be a problem helping me achieve my dreams? The answer came back no if I was serious and booked an appointment. I very quickly arranged appointments and the adventure started. I spent ages getting ready for the appointments. Everything needed to be perfect! With trepidation I arrived on time for my first appointment. Jane the owner could not have been more welcoming. She was fascinated by my journey and how I achieved my female persona and body shaping. I was told Amanda was very convincing! We talked for ages discussing my dream look. Out came a selection of dresses. Wow! I could not wait to get into to them. Jane also suggested a laced corset back was the best option. Well she said, you had better get undressed, I will help you get into them. My heart was pounding! I was in heaven! Deep inner feelings were triggered off. Jane helped me into the first dress. I felt and looked amazing. It seemed to take ages to get the lacing done up. She let me borrow some bridal shoes. Amanda, you look amazing, turn round and walk over to the mirror. I could not believe what I saw in the reflection. It felt so natural! We talked like girls all the time, I was so excited, more dresses to try on and results to see. Altogether I tried on six dresses. This was going to be an expensive day.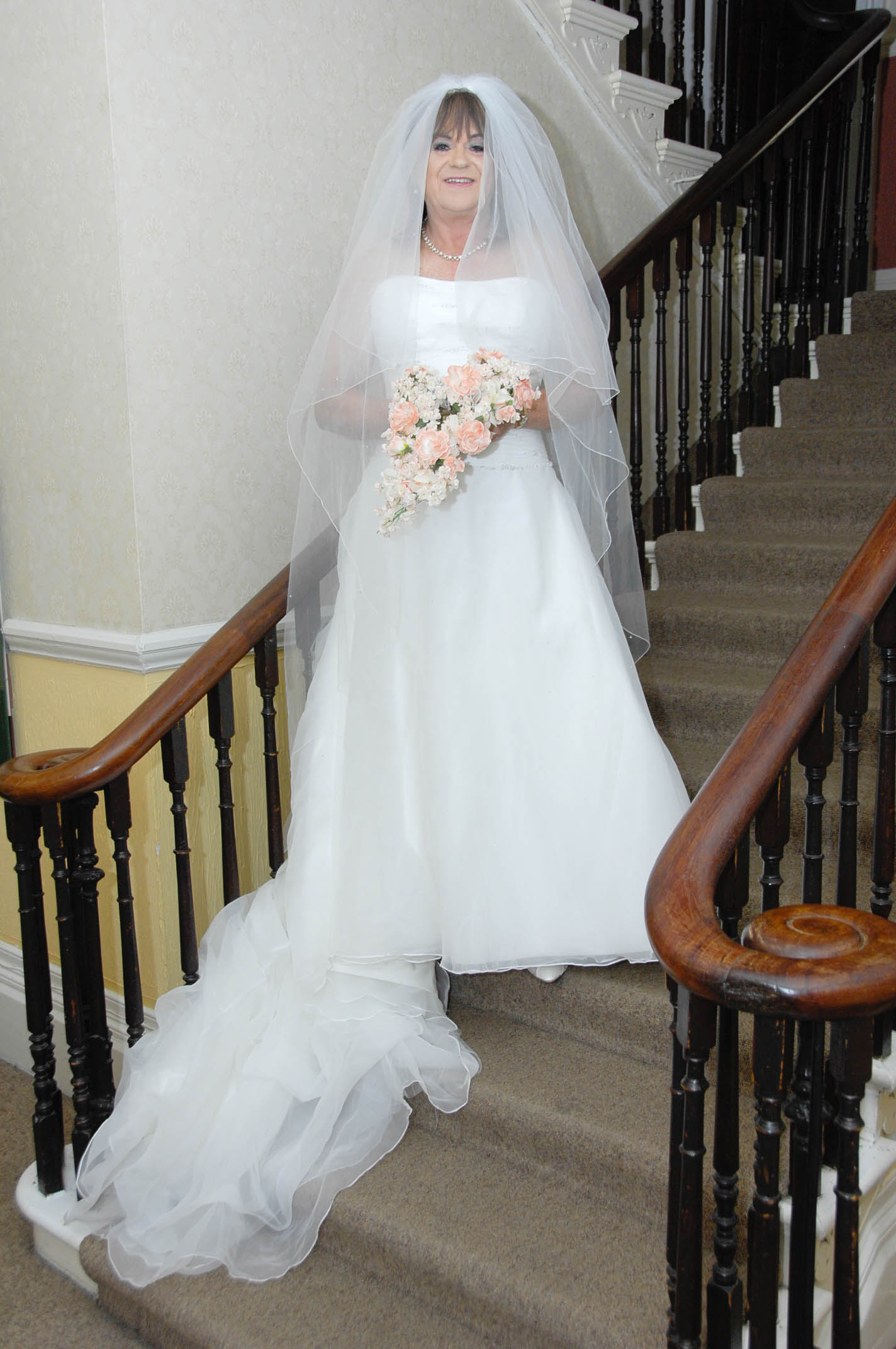 The dresses ranged from £800-£1500 and accessories and extras needed. Underskirts, shoes, bridal underwear, jewellery, the list goes on. We had a lovely time together. Amanda, I can see you are very serious about you female side Jane said. It has been a pleasure helping you but, have you thought about buying secondhand? You can get dresses altered. I can help with that side. You now know what suits you and a size 16 is a good fit. I have loved having you in my shop. It's been a real pleasure getting to know you. Well I went away on cloud 9. The following week I went to my second appointment in another bridal shop. This time the owner Sally was just like Jane. She was very interested in the TG scene and I experienced the same experiences as I did with Jane. She was very supportive and enthusiastic. Again, I was in heaven! I had a lot to consider and think about. Was the secondhand route worth considering. Yes was the answer. I turned to the internet and discovered two really great sites (preloved.co.uk and Bride2Bride). Both proved to be a great resource with lots of dresses in my local area. I logged onto these sites regularly and saved possible dresses in a folder. I monitored prices, most dropped over the months and gathered ideas. Was I really ready to move forward? Yes I was! I found three possible dream dresses locally and emailed the advertisers explaining I was transgendered. Would this cause a problem? No came back the answer each time. I duly asked for more pictures and detailed measurements of bust, waist and hips. Both Jane and Sally gave me detailed dimensions to assist me in getting my dream dress. Well, the story continues. My first choice would be my dream come true! I pinged an email off to Sue and said I would love to come and see the dress. She was selling on behalf of her daughter who had emigrated to Australia and wanted the dress sold. Again with trepidation Amanda set off on another adventure fully dressed, feeling and looking the best I could. I found the hose easily, parked my car on the drive, walked up the path and knocked on the large house front door. Within seconds the front door opened. Come in Amanda, WOW you look fab! She gave me a hug and a kiss. Things were looking good. Her husband also warmly greeted me. Well Amanda, come upstairs and see the dress. I hope you like it! It was laid out in her daughter's old bedroom on the bed. It looked amazing. Would it fit? Would my dreams come true? Well Amanda do you like it? Can I help you get dressed? Yes please I answered. Sue was fascinated in my story and transgendered issues. Do you mind if I see you in your lingerie Sue asked. No I said. Well I undressed and Sue helped me in. You are so brave she said. You do take Amanda so seriously. You look great. I hope the dress fits. I pulled the dress up, Sue laced me in. Wow she said, you look amazing. The fit is really good. She put on the veil and I looked in the mirror. I was lost for words! I walked around the room in heaven, the dress rustling and the long train and veil following me. My bridal dream had come true. This was my dream dress. I changed back into my blue Diva dress and we chatted and packed up the dress into it's box. Cash was exchanged and I left in a dream that had just come true. The dress had originally cost £1400 and the veil £100. I got the whole package for less than £130. Sue had dropped the price three times over the year. Who said bargains can't be found and had? If you need TG underwear, shape wear, lingerie or breast forms I can highly recommend a friend Geraldine Herd who runs a company called Hour Glass Figure. She has been involved and is very supportive to the TG community. She has set up this site to specifically help the TG Community. My dream dress just needed a very slight tweak with the back panel. I'm a perfectionist! Again a local dress maker friend helped out with this. She has altered dresses and skirts for me before. The fit now is AMAZING!! A dream has come true!! The story has not ended yet. Amanda is planning to go to a Bridal Event in Bournemouth in September run by Danielle who is well known and respected in the TG scene. Amanda is also aiming to retire this coming year and who knows where this will lead.I can't wait and will report back hopefully with a part two of my Bridal Adventure.
Bridal Adventures (Part 2) – The Bridal Pageant
As you can see from the pictures, I did enter the Bridal Pageant at the Bournemouth Transgender Weekend. I had a stunning wedding dress and all the accessories.
My beautician friend Jude helped me prepare for the event. She suggested treatments that I would need and a time plan. Things kicked off a week before. A full body wax including everything off was required as I also wanted to use the hot tub and swimming pool. I had just bought a new swimming costume! A few days later followed a spray tan. A first for me. This was then followed by nail and eyelash extensions and my toe nails painted! I felt fantastic and looked amazing.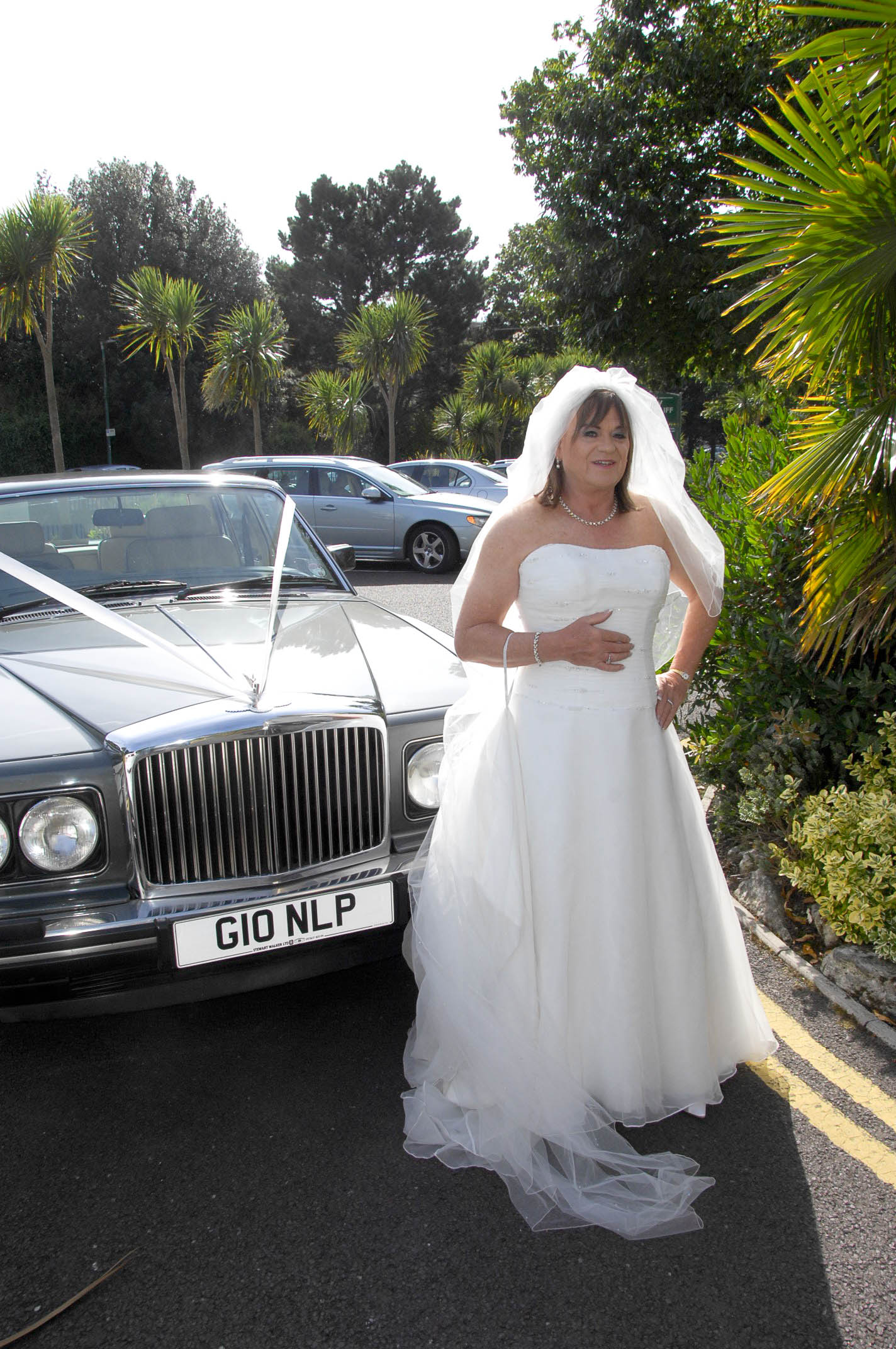 My very supportive wife was stunned when I came home. You are really going for it she said! It all felt so totally natural. I had planned to live 24/7 en femme for 7 days with her full support. I could not wait for the pageant at the end of the week. I drove to the hotel, parked up, went in and introduced myself. What a weekend it turned out to be. The hotel was not totally TG's but a mix including other guests. There were about 35 TG's some with partners, spouses. It was a fantastic event! The pageant, catwalk and interviews took place on Saturday. It was amazing. Such fun! Amanda got down to the last three after a catwalk and interviews and won highly commended. What a confidence boost.
Wearing the dress for most of the day was a real challenge. A ride in the Bentley was the ultimate experience around Bournemouth. I had completed my first pageant with flying colours!
Swimming en femme in the indoor pool felt so natural as did the hot tub. I had a lovely chat with three genetic women in the tub. All thought I was transsexual and was on hormones and had surgery. All thought I had put in a massive effort and had a lot of bottle to do what I had done. We met up again later in the bar and chatted more. What an experience. Out and accepted in the real world. Such fun! The three-day event whizzed by very quickly. It was soon time say good fare well and head home. I managed to keep my lashes and nails on for a couple more days before Jude removed them and I reverted to male mode!
The weekend was a real eye opener. I proved to myself I could live en femme. I had such a ball and did not want it to end. Deep feelings were triggered inside. I knew I would never be the same again! Amanda's journey reached new levels. There was no going back!
https://www.christianedowling.com/wp-content/uploads/2019/12/DSC7343.jpg
2144
1424
Christiane
https://www.christianedowling.com/wp-content/uploads/2017/03/logo-white1-300x138.png
Christiane
2019-12-06 22:18:52
2021-04-13 20:47:46
Bridal Adventures